In 2014 I wrote an article entitled 'Heroes of a Deferred Nation 'in which I opined that far from having the potential of a Nordic social-democratic economy, an independent Scotland was better placed to remain a rainy small C conservative outpost – not dissimilar to the one it would have recently left. I feel that last week's Holyrood elections proved I and many others correct in this regard. You may thank me later, but here is why:
Blue is the colour

Scotland has always had Tories. I see them walking their nonsensically named dogs through the park, clad in tartan jackets for that Walter Scott feel you need when dressing a Yorkshire Terrier. Occasionally you will also see them on the news postulating social cynicism and economic mania, but in that guise they are more likely to say they are SNP or Labour. That works as follows:
David Cameron: "We need to make savings in public expenditure to secure the future prosperity of Britain"
Reaction: "Booooo, bloody Tory filth. Go back to London and shag a pig"
Nicola Sturgeon: "We cannot increase tax, it will make high earners flee Scotland"
Reaction: "Goan yersel Nicola! One of us, one of us, one of us!"
It's a simple yet effective equation.
For a great deal of time this hedging brought many a traditional Tory voter to the door of Labour or the SNP, and as long as taxes remained relatively low, and petrol was reasonable at the pump – all was well. That is of course until the constitutional issue became precipitous. Once the prospect of independence barged down the door of sedantry Edinburgh politics, many true blues decided simply trading off their vote to the most steady handed of the two dominant parties would not cut it. The churn of this rising vote has its origins in a number of as yet ill defined demographics, and it is fair to say it was not simply a matter of a Labour to Tory swing. If we strip away the party clothes and poke at the naked flesh of ruddy political policy there is a clear swing towards economic conservatism, the final destination of which usually depends on your position on independence.
Labour seemed to be ashamed to say they are avowedly unionist (secret sources have told me they very much are), and the SNP for all their middle ground omertà cannot go a day without scaring the flock with talk of another referendum. There are a great many people who genuinely do not wish to leave the United Kingdom, there was a big vote on this and everything – you might be surprised. It is therefore not shocking that a party running on a platform of 'we are going to oppose the dangerous separatists at the gates' did quite well with those who go in for all that.
A short addendum to this: it is nothing new that parties seen to be competent often do well, and regularly win. Can anyone honestly say that any party in Scotland at the moment looks competent outside the SNP and Conservatives? The Tories knew this and tailored their election materials around competence and their inexplicably popular leader Ruth Davidson.
A lot of people are tight

If we take a very base analysis of what defines the social-democratic 'Nordic' economies it has to pivot on the fact they are much more willing to pay higher rates of tax. This assumes a modicum of affectless cynicism about the complex and varied contributory factors, so you will have to bear with me.
Denmark (61.12%) , Sweden (56.8%) both have average top rates of income tax between 1995-2015 well above our own current top rate of 45%. That should be the jumping off point for any comparison. Scotland belly flops in the first round here without any help from Gordon Strachan.
We should not only focus on income tax however, the Scandinavian welfare apparatus germinates from a wide range of personal taxes and employer contributions, many of which are higher than what we pay here. A better overview is how much tax constitutes the various countries' overall GDP. For this purpose we will also include Finland, which may not strictly be 'Scandinavian', yet does follow a very similar socio-economic model:
UK – 37.5%
Scotland – 37.7%
Denmark – 49%
Finland – 43.6%
Norway – 43.6%
Sweden – 45.8%
It would be heart-warming to assume that there is swelling desire within Scotland for greater taxation which might emulate the Nordic economies, but last week 68.5% of voters in the constituency ballot, and 64.6% on the regional list voted for either the SNP or Conservative parties…both of whom promised a 45p top rate of tax. If philosophy is the discovery of the obvious, you may cry EUREKA.
The SNP are an economically conservative party, and their supporters like them that way. If you have convinced yourself otherwise may I interest you in a timeshare in Bulgaria?
Dominic Hinde posits this more effectively when he writes:
High basic wages, free education and good housing were the  foundation of the Nordic model from the 30s onwards, and in time environmental responsibility and greater gender equality were added to the mix. To the wealthy these things are prosaic details, to those less well-off they create a life worth living.
Look through the SNP manifesto though and it is very difficult to find anything that would make Scotland more Nordic in the immediate future.
The two parties proposing a 60p top rate of tax (something I personally agree with) the Scottish Green Party and RISE managed 7.1% on the regional lists between them. Tommy Sheridan's, Solidarity, may have also proposed this but every time I seek to uncover this information I find myself lost in Tommy's treacherous gaze.
Parties positing such 'radical' policies are regularly forming governments and oppositions in the aforementioned Nordic countries. This is not the case perpetually, many softer conservative governments have attempted to draw back the social-democratic consensus (Swedish Moderates 06–14, Danish Venstre 01–11), but few have lasted long enough or commanded the majority needed to overhaul it entirely.
Perhaps we can sustain a cognitive dissonance that sees this disparity as a by-product of a British political tradition during cross-party referendum campaigns, yet when manifestos are printed and Ponsonby deployed, it becomes evident that the predators in this ecosystem closely resemble their southern genus.
'Leave them kids alone'

It is reasonable to wonder if this election had any big issues whatsoever (Buzzfeed tells me Willie Rennie and a slide was an 'unforgettable' moment). At a cursory glance around Glasgow I would guess that Nicola Sturgeon's face was atop the agenda quite a lot, otherwise why would I need to look at it as I approach Ibrox? I don't need another reason to avoid Ibrox after all.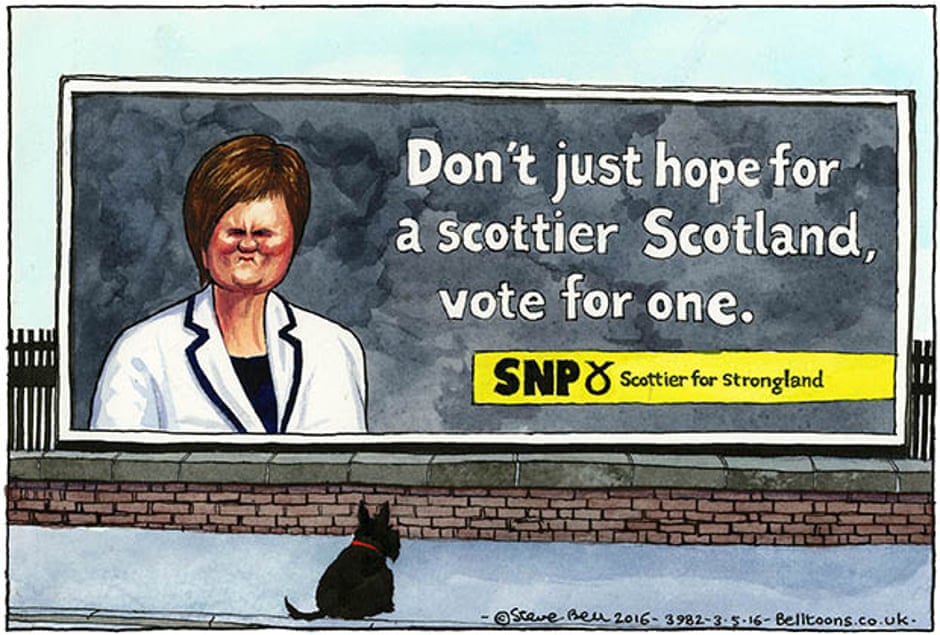 For all the posturing from parties across the spectrum, education only briefly appeared in any meaningful sense during recent months, most notably when Calamity Constance got her face on television.
Education requires fundamental reform in Scotland. Whether it needs to abandon the Curriculum for Excellence (CfE) as seemed to be hailed by Sturgeon's desire to bring back standardised testing for primary school pupils, is another matter.
Continuously saying that the cuts threaten educational attainment is important, honest, and true…..but it does not actually say a great deal about what any of the parties wanted to do to improve teaching and schools. Here are some of the manifesto examples that I would put in the 'non-policy' category:
SNP:
Oversee a "revolution in transparency" about school performance
Ensure that every child in early education in the most deprived communities will have access to an additional teacher or childcare graduate by 2018
Scottish Labour:
Bridge the gap between "the richest and the rest" in classrooms
Give every primary school the opportunity to establish a breakfast club
Scottish Conservatives:
New measures should be put in place to ensure the best possible teachers are recruited
The Scottish government should be "far bolder" in measuring progress in the education system
Scottish Greens:
Help for all pupils experiencing poverty
Fair funding for college and university students
I suppose I was not alone in thinking 'and how are you going to do that?' when reading these pledges. Of course each party had other policies which were more cohesive. I would particularly welcome the plans from Labour and the Greens to considerably increase apprenticeships. Despite this there seemed to be no other area quite as mottled with pecuniary detail as that of education. A trend I dare say will continue in Scotland for some time to come.
The unending appearance and disappearance of SNP education policies has oft left me wondering if these are to follow the purpose of Dewar's 'Pied Wagtail Preservation Order of 1968' – existing only to distract or delay some inevitable banality. Yet what rankles with greater torment is how soft, and I mean 'Carry On…Up the Khyber' soft, the press in this country are in regards to these half steps and mistruths. If the mainstream press have at any point questioned continuously the obscene gaps in attainment between rich and poorer areas in Scotland, I simply have not seen it.
As you were
To conclude, not much went on, not much at all. Scottish politics remains dominated by the question of sovereignty – and divvies will continue to write books and think pieces claiming there is a 'rennaissance' of activism and political debate north of Carlisle.
There really isn't.
No one cares.
They care so little they reelected the government for the third term running.
Scotland? Bit boring really.
Until next time.